Bangers & Mash (Macro Friendly!)
I'm not sure whether it's because it conjures up childhood memories, or reminds me of good pub food, but bangers and mash is one of my favourite meals.
However as sausages are normally made up of quite fatty cuts of pork, it often isn't very diet friendly. Couple this in with adding loads of butter and cream to the mash and you've got a beast of a calorie hit.
Now of course if you want to go full hog on 'proper' bangers and mash you're more than welcome, you'll just have to adjust your calorie intake for your other meals to ensure you're in a calorie deficit, if fat loss is your goal.
I do however think that my macro-friendlier version is still pretty good!
JB's Bangers & Mash with Cider & Dijon Gravy (Serves 2)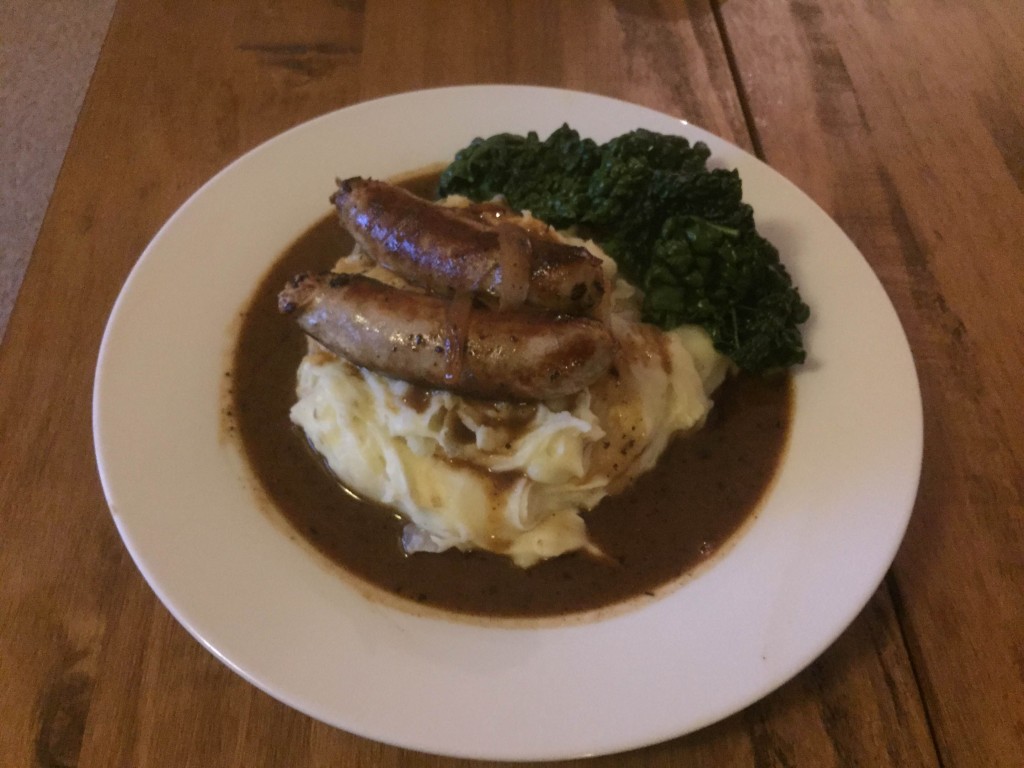 Ingredients
4 lean pork or beef sausages (I used Be Good to Yourself Cumberland Sausages)
For the mash:
2 medium sized potatoes (about fist sized, cut into chunks), peeled or skins left on, your choice!
50ml semi skimmed milk
30g butter
For the gravy:
1 medium white onion or 2 shallots, finely chopped
1 tsp olive oil
250ml good quality cider
100ml water
1 tsp corn flour, made into a paste with 1tbsp hot water.
1 tbsp Dijon mustard
Steamed greens of choice to serve, I used Cavalo Nero.
Recipe
Boil the potatoes until completely soft.
Whilst your potatoes boil, on a medium heat, dry fry the sausages, according to packet instructions until cooked through and remove from the pan.
Add 1 tsp olive oil to the pan and add the chopped onion. Fry until softened and slightly browned.
Add the cider, water, Dijon mustard and corn flour paste to the pan, making sure to scrape off any burnt bits on the bottom of the pan. That's where the flavour is at! Simmer the gravy until reduced by half.
While the gravy reduces, make your mash. Take the potatoes, add the milk, butter, salt and pepper to taste and blend using an immersion/stick blender rather than a potato masher for about 2 minutes or so. You'll be left with a much more "volumised" mash and much creamier without having to add too much other calorie containing cream, butter etc.
Serve the mash in a nice big dollop in the centre, top with your sausages and add the now lovely thick and rich gravy. Serve with your choice of steamed greens on the side.
Macronutrients/Calories
525 calories
59g carbohydrate
21g fat
25g protein
Comments
comments