Triple Chocolate Brownies
A macro friendly, low calorie yet delicious triple chocolate brownie?
"LIES!" I hear you say.
No lies here my friend. Here's the proof: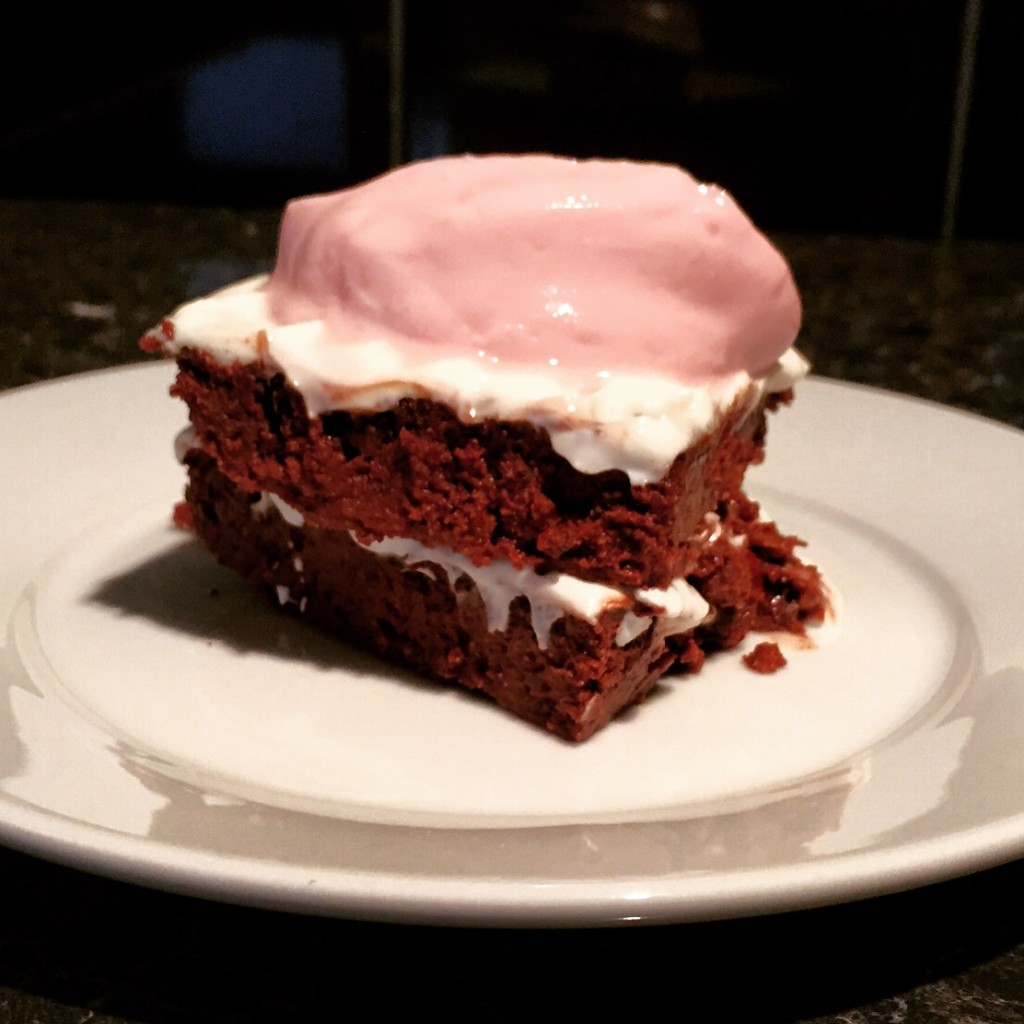 The triple chocolate comes from;
1) A chocolate brownie base
2) Dark chocolate chips
3) A white chocolate topping
And that stuff on top?
Cherry flavoured Greek yoghurt. If you've never tried the combo of chocolate + cherry, I recommend you do so. It's a winner.
The calories are cut via a few methods. One is the use of black beans rather than flour. If you think this sounds a bit odd you'd be right but it really works well! You can't taste the beans at all and it delivers a great texture to the brownie, similar to what flour would. If you still don't believe me they've even done a study on it!
Pureed cannellini beans can be substituted for shortening in brownies.
http://www.ncbi.nlm.nih.gov/m/pubmed/16182649/
Secondly is the use of low fat vanilla Greek yoghurt and bananas to add moisture instead of using a lot of oils or butter. Again this makes for a great texture to give a moist (dat word…*shudders*) and decadent brownie. Not to mention it adds sweetness without the need for extra added sugar.
Triple Chocolate Brownies (makes 10)
Ingredients
For the brownies:
1 drained carton of black beans, rinsed very well until water runs clear (I used Sainsbury's Organic ones, they worked out to be 230g once drained)
50g dark chocolate chips
~150-170g pot 0% of low fat vanilla Greek yoghurt
2 bananas
1 tbsp Truvia sweetener (optional)
1 whole egg + 2 whites
60g cocoa powder
3/4 teaspoon baking powder
Pinch salt
For the topping:
250g tub of Quark cheese or 250g 0% fat Greek yoghurt
10 drops of MyProtein white chocolate flavdrops OR 1 sachet of white chocolate Options hot chocolate powder
Preheat your oven to 170°C and line a baking tray with greaseproof paper or cooking spray. I used a tin approx. 9″x 9″
Blend all of the brownie ingredients together (apart from the dark chocolate chips) until smooth and no lumps remain.
Pour into the baking tin, sprinkle over the dark chocolate chips evenly and bake for 15-20 minutes or until a toothpick comes out of the centre clean.
Remove from the oven to cool whilst you make the topping.
Mix the Quark cheese or Greek yoghurt with either the flav drops or the hot chocolate powder. Leave in the fridge until the brownies have cooled. Spread the white chocolate topping over the brownie base.
Cut into 10 squares and try not to eat the whole batch in one go.
Macronutrients and Calories
22g carbohydrate
4g fat
13g protein
175kcal
Comments
comments