Slow Cooked Beef Ragu with Courgettini
Spaghetti bolognese made with mince is pretty good.
Spaghetti bolognese made with whole chunks of slow cooked meat… EPIC.
Maybe I'm just being lazy with the description, but that pretty much sums up this meal in a nut shell.
Of course you could serve the ragu with normal pasta or spaghetti, but the courgettini genuinely does bring something of its own to the dish, and helps keep the calories down. Double boom.
I also make no exaggeration when I say this might be the most filling, low calorie meal ever.
Slow Cooked Beef Ragu with Courgettini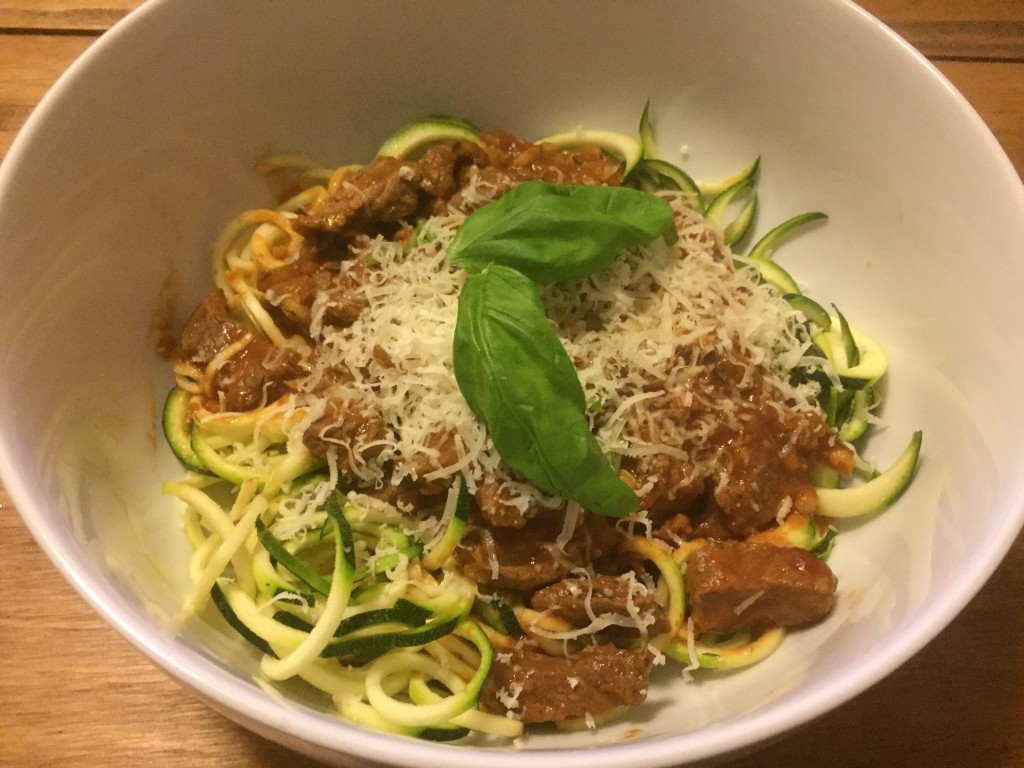 Ingredients
2 courgettes
300-400g lean beef chunks, or lean casserole steaks
2 cloves garlic
1 carrot
1 red onion
2 sticks of celery
1 sprig rosemary, leaves removed
1 sprig thyme, leaves removed
1 ~400g carton of passata
400ml beef stock
1/2 tsp sugar
Salt & pepper
1 tsp olive oil
Basil leaves (optional)
1 tbsp grated parmesan for each portion (optional)
Recipe
In a non stick pan, dry fry the beef until gently browned. Do so in batches if necessary to make sure your beef actually browns rather than boils in its own juices. Remove from the pan.
Take the garlic, carrot, onion, celery, rosemary & thyme and blitz in a food processor until it's cut into small chunks.
Add the tsp oil to the pan and add the veggie mix. Fry for 3-5 mins until gently browned.
Add the passata, beef stock, sugar, salt & pepper, mix through, cover and keep on a low heat for 3-4 hours, or until the meat falls apart easily. (TIP: if your sauce is too thin, then leave the lid off for 30-60 mins until thickened).
Julienne or spiralize the courgette to make your courgettini:
Add the courgettini to the bottom of your bowl, take the sauce off the heat and immediately add on top. Serve with 1 tbsp grated parmesan per portion and if you like, some basil leaves too.
Calories & Macronutrients (for one portion, assuming 175g beef & 1tbsp parmesan per portion)
313 calories
27g carbohydrate
7g fat
36g protein
Comments
comments