Mediterranean Lamb Feast
Lamb is such a great (and often underrated) alternative to beef, but some cuts often pack a high fat content, taking us easily over a calorie deficit, especially if we use a fattier cut such as leg or shoulder.
This recipe uses some great additions to the lamb that are much lower in fat, keeping the calories lower but not skimping on the flavour.
Due to the separate nature of all the dishes and the fact it's also super easy to do and quick (don't be put off by the number of ingredients, I promise it is easy!) it would make a great sharing platter, perfect for parties, BBQs etc.
In the picture below we have (from bottom left going clockwise) jeweled couscous, tzatziki, homemade chilli sauce, red cabbage salad, lamb souvlaki kebabs and pitta bread.
Let's take a look at the recipe.
Mediterranean Lamb Feast (Serves 4)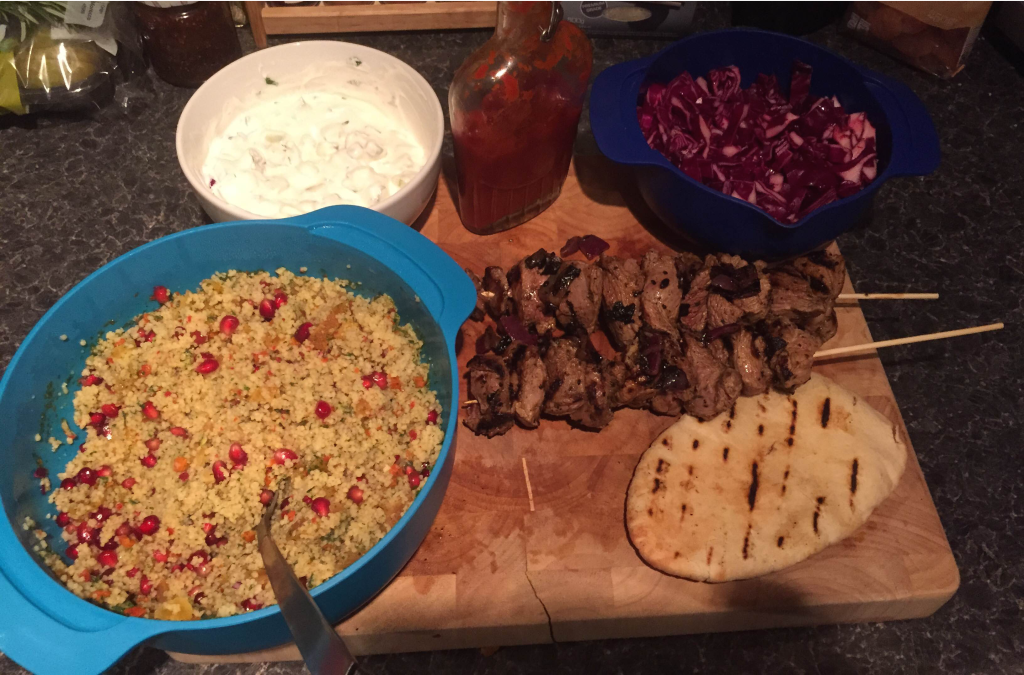 Ingredients
For the lamb souvlaki kebabs:
~700g boneless lamb leg, as much fat removed as possible and cut into evenly sized chunks
2 cloves crushed garlic
1/2 tsp cumin
1 tsp dried oregano
1/2 tsp dried thyme
1/2 tsp
1/2 tsp salt
1 tbsp olive oil
Juice and zest of half a lemon
For the jeweled couscous:
220g Sainsburys Lemon & Coriander couscous
6 dried apricots, cut into small chunks
100g pomegranate seeds
For the tzatziki:
A single pot of 170g 0% Total Greek Yoghurt
Handful of finely chopped mint
1/4 cucumber, finely diced
1/4 tsp salt
Juice of 1/4 lemon
1/4 tsp paprika
For the red cabbage salad:
1/2 head red cabbage finely sliced or blitzed in a food processor
Juice of 1/4 lemon
1 tsp salt
Handful chopped parsley
Homemade Chili Sauce
Recipe HERE or use your own sauce of choice!
Recipe
Mix all of the ingredients for the lamb souvlaki kebabs in a bowl and leave for at least an hour in the fridge to marinate, preferably overnight.
Make up the red cabbage salad, mix all of the ingredients together and again leave in the fridge at for an hour before serving. This marinading process gets rid of the unpleasant bitter taste and makes it slightly less crunchy so it's not as hard work to chew!
We can also make the tzatziki in advance. Mix all of the ingredients in a bowl and leave in the fridge until needed.
Time to cook the kebabs! Put the pieces of lamb on soaked wooden skewers or metal skewers and put under a hot grill or on a griddle pan and cook for 3-4 minutes on each side. Remove from the pan or grill and leave to rest.
Whilst the kebabs rest let's make the couscous. Add the couscous to 340ml of boiling water in a bowl, cover and leave to rest for 5 minutes until the water has been absorbed. Add the pomegranate seeds and chopped apricots and mix, fluffing up the couscous.
Serve your lamb kebabs and couscous with a dollop of the fresh tzatziki on the side along with the red cabbage salad and your favourite hot chilli sauce. If your macros allow it, serve with a grilled pitta bread on the side too.
Macronutrients & Calories (without pitta)
592 calories
63g carbohydrates
12g fat
58g protein
Comments
comments