Low Carb Mediterranean Feast
The most popular recipe on my site is my Mediterranean Lamb Feast and it's certainly a firm favourite in my house too.
Last night I had a real hankering for it and unfortunately at the moment I just can't fit it into my macros or calories due to my upcoming powerlifting competition.
So I racked my brains to come up with a much lower carb and lower calorie version… and came up with this little beaut'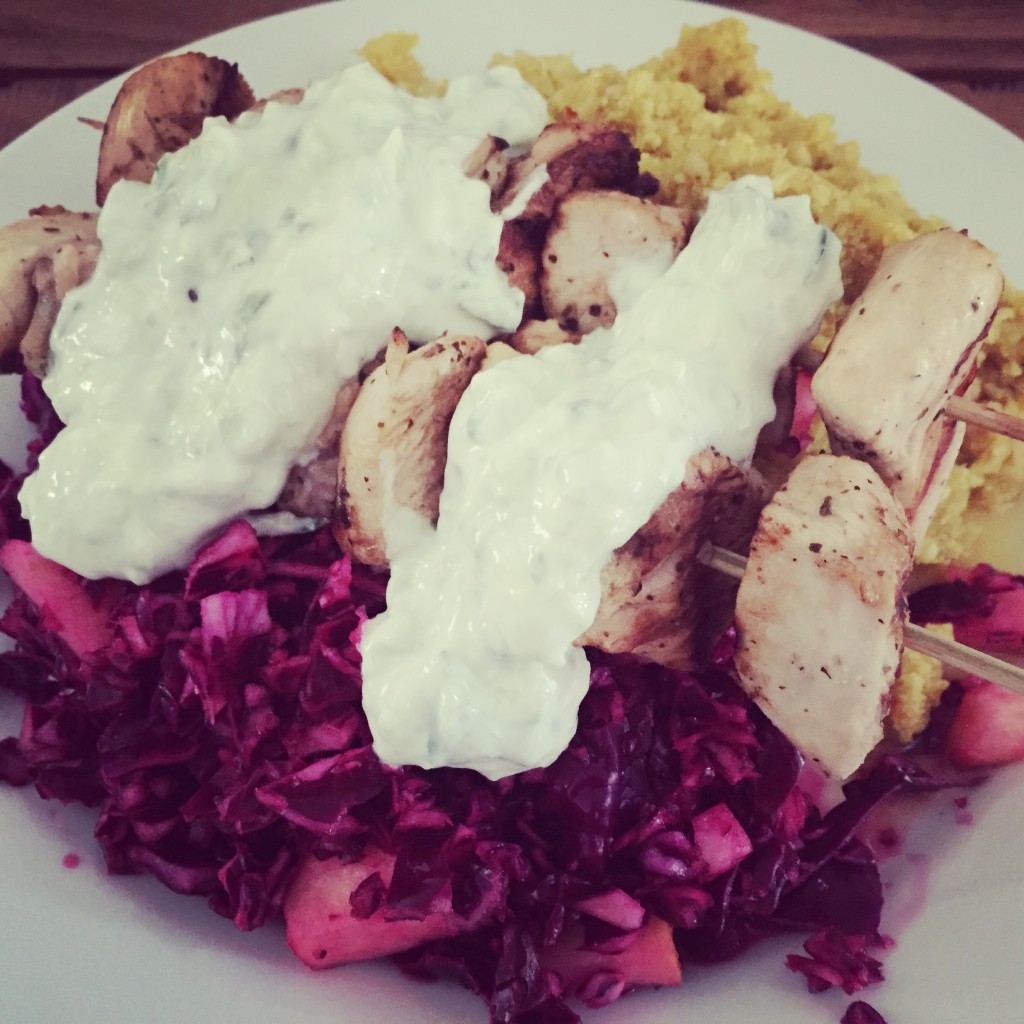 I've made the following replacements;
Couscous with cauliflower couscous.
The lamb skewers have been subbed for chicken souvlaki.
Despite the above I still get all the amazing, charred smokiness as well as the delicious spiced couscous without all the extra calories.
Let's take a look at the recipe.
Low Carb Mediterranean Feast (Serves 2)
Ingredients
Chicken souvlaki;
300-400g chicken breast, cut into evenly sized chunks
1 tsp dried oregano
1 tsp olive oil
1 tsp salt
100ml lemon juice (I used THIS one from a bottle)
6 cloves garlic, crushed or grated OR 2 tsp garlic powder
Some metal skewers or wooden ones that have been soaked in water
Red cabbage and apple salad
1/2 head red cabbage
1 tsp salt
3 tbsp lemon juice
1 finely chopped apple (not a cooking apple, use a sweet one like a braeburn or a cox instead)
1 handful flat leaf parsley, chopped
Cauliflower couscous
1 medium head of cauliflower
1 tsp each of:
Turmeric
Cumin
Chili powder
Cinnamon
Garlic powder
2 tbsp chopped mint
200ml chicken stock
For the tzatziki
150g 0% fat Greek or natural yoghurt
1/4 cucumber, finely diced
5-6 mint leaves, finely chopped
1/4 tsp salt
1 tsp lemon juice
Let's start by making the souvlaki. Take all of the ingredients, apart from the skewers (duh) and mix in a bowl and leave to marinate in the fridge for at least 20 minutes, better still for 2 hours.
Whilst the chicken marinates, make the salad, tzatziki and the couscous.
Take the red cabbage, blitz it in a food processor or chop by hand until it's in small chunks and put in a bowl with the rest of the ingredients. Stir, and pop in the fridge until it's ready to use.
Take the cauliflower, removing the outer leaves and grate or blitz in a food processor until it's in little couscous sized pieces. Chuck it into a non stick frying pan over a medium heat with the rest of the ingredients apart from the stock and stir well. Add the stock, cover with a lid or a piece of foil and simmer gently for 5 minutes.
Remove from the heat, add to a bowl and leave to cool.
For the tzatziki, mix all of the ingredients together and keep in the fridge until it's ready.
Heat up a griddle pan, your George Foreman or frying pan to a high heat.
Put the chicken pieces onto your skewers, and chuck on to your cooking vessel of choice. Cook for 4-5 minutes per side until the chicken is lovely and charred and of course cooked through… salmonella is not a JB Training & Nutrition endorsed method of weight loss.
Plate up your couscous and the salad, top with the skewers and spoon on your tzatziki. Enjoy!

Macronutrients & Calories (per portion)
57g protein
8g fat
27g carbohydrate
408 calories
Comments
comments