JB's Macro Friendly Ice Cream Recipe
When it's heating up there's only one thing that will do to take the edge off the heat.
Ice cream (obviously, what else?).
However, too much ice cream does not make for a good physique. Nothing inherently bad with ice cream but it's jam packed with calories and is way to easy to overeat.
As an example, my favourite ice cream, Ben & Jerry's Peanut Butter Cup has the following macros for half a tub. I say half a tub because in my opinion, this is the MINIMUM acceptable serving size for ice cream.
If you have the discipline to eat less than half a tub then hats off to you.
15g protein
55g carbohydrate
48g fat
~700kcal
As delicious as it is, with these macros, it's something we can only really fit in once a week or even less, have in a very small portion size or have on the odd occasion where might do a 'free meal' where you simply don't count macros and have the odd bit of food in moderation that you truly want.
Now my ice cream however can be enjoyed much more regularly.
In fact lately I've been making one every day to either to have at the end of the day to fill up any remaining protein macros or even having it for breakfast on days where I know I'll be eating a little more later in the day, like on the weekends where I'll be eating out in restaurants.
Check out the stats on my bad boy macro friendly ice cream recipe to compare.
25g protein
19g carbohydrate
3g fat
~203kcal
For such little calories and macros you get a big bowl of amazing creamy, whipped ice cream.
The secret for it? You need to use milk protein or casein protein powder, frozen fruit with at least some of it being frozen banana. For convenience I just use some of this: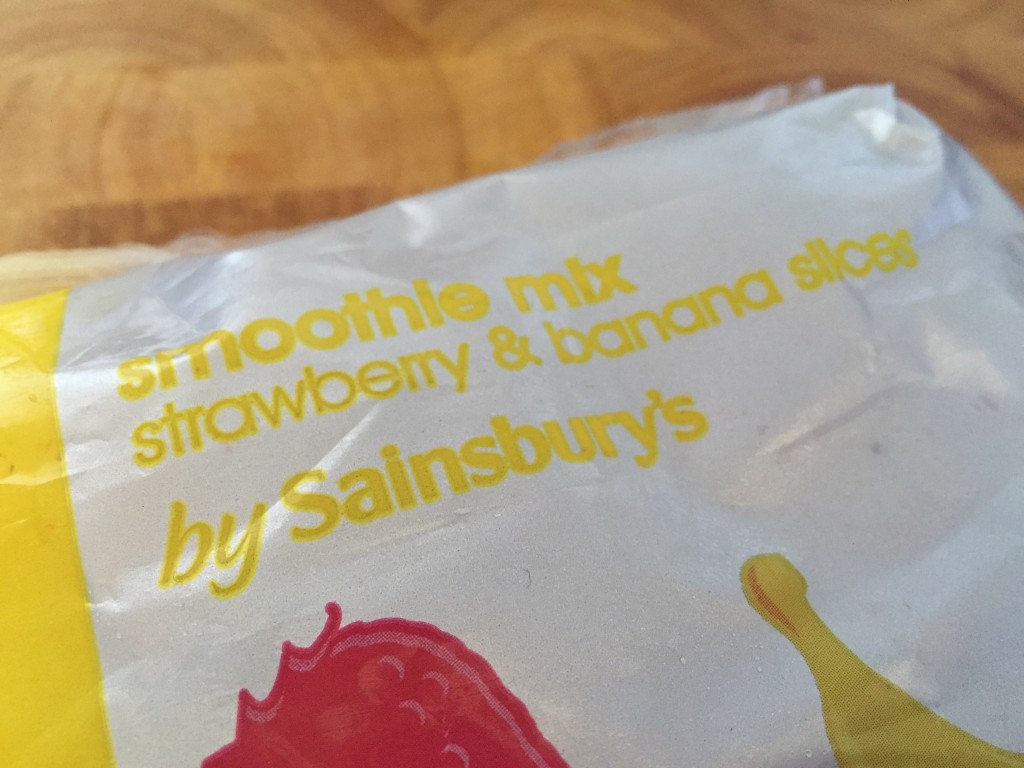 When you blend frozen banana it turns whatever your blending it into a thick, creamy texture. The casein or milk protein powder works better than whey as when whey is blended it tends to turn your mix watery. It might work better with whey if you add 1/4 – 1/2 a teaspoon of Xanthan gum to counteract this.
When you blend everything together you should end up with a fluffed up, creamy bowl of goodness, with a texture not too dissimilar to a Mr Whippy/99!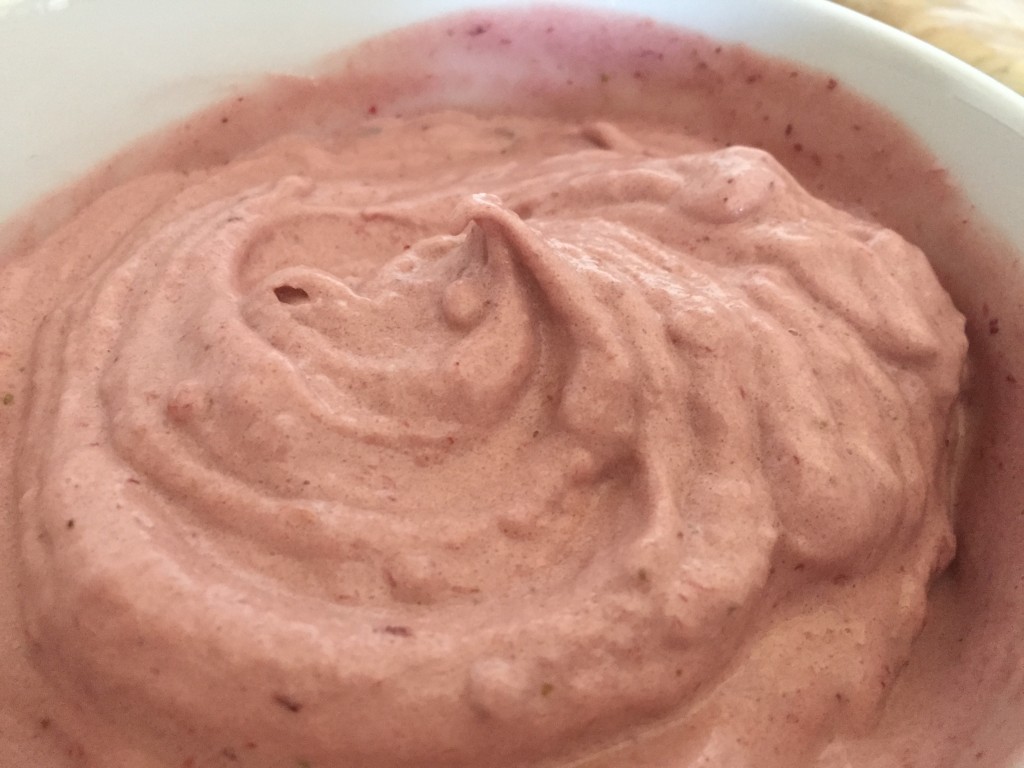 I like mine quite light and airy so I used a little more liquid, however if you like yours compact and a bit harder like ice cream that you can scoop, then add some crushed ice provided your blender/food processor can take it.
To show you the difference, I tried the denser more "scoop" style here with some coconut flour pancakes and squirty cream: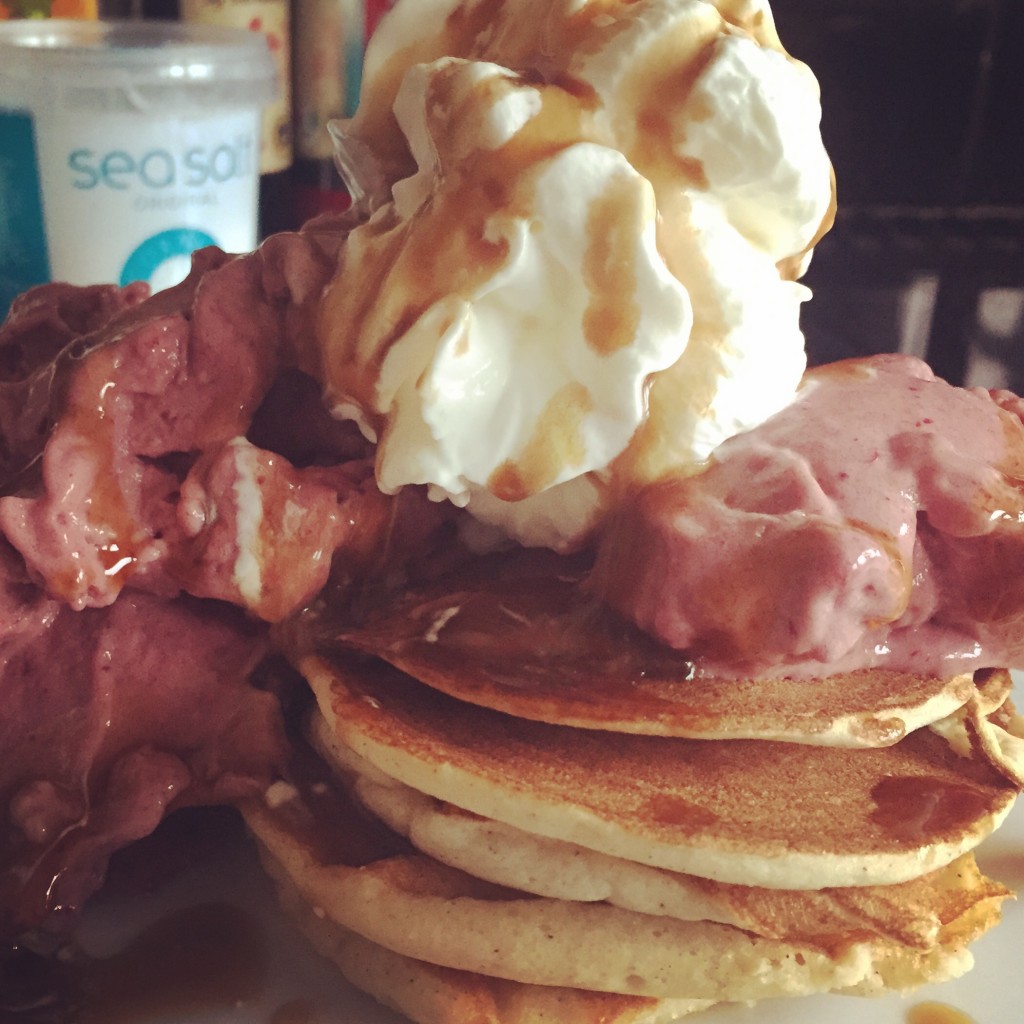 JB's Macro Friendly Ice Cream Recipe
Ingredients
1 x 30g scoop of milk protein concentrate or casein, or if you don't have these whey protein will work but it won't be as thick and creamy. See below recipe for flavour options.
150-200g/1 cup frozen fruit of choice, with at least a quarter of it being frozen banana. See below recipe for different flavour options.
100-150ml almond milk, coconut milk (the stuff you get in the same aisle as the almond milk; I use the Koko brand) or water
Handful of ice, optional
1/4 – 1/2 tsp Xanthan gum, optional
Recipe
Take all of the ingredients and add to your blender, electric whisk bowl, or food processor. If you're using an electric whisk then let the fruit defrost a little first, otherwise your kitchen will be painted with a sludgy mix of protein powder and berries.
For a thicker ice cream, add less liquid and consider adding some ice, and perhaps the xanthan gum. For a lighter, more airy ice cream, don't use ice and use a little more liquid.
Blend at a high speed for 1-2 minutes, or until smooth and the mixture has fluffed up to at least twice its previous volume.
Serve immediately or whack it in the freezer for 15 minutes if you want it a little colder.
Macronutrients and Calories
Below macros are for 150g frozen strawberries & banana, 1 scoop milk protein concentrate, 150ml Koko coconut milk.
25g protein
19g carbohydrate
3g fat
203kcal
Variations
There are infinite different combinations for my macro friendly ice cream recipe, but here are some of my favourites:
PS. I use The Protein Works casein & milk protein powders and the flavours are spot on. Use the links below and give them a crack, you won't be disappointed!
Frozen banana & strawberries + strawberry casein/milk protein = strawberries & cream flavour
Frozen cherries & banana + chocolate casein/milk protein = black forest gateau
Frozen banana + banana casein/milk protein = a very banana-ery ice cream
Frozen blueberries & banana + vanilla casein/milk protein = blueberry sorbet
Enjoy!
Comments
comments